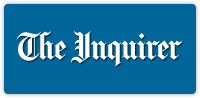 Agriculture officials from Uruguay and the United States gathered at the Packer Avenue Marine Terminal in South Philadelphia on Monday to mark the first shipment of Uruguayan citrus fruit to the United States.
On a nearby pier, a Hamburg Sud refrigerated cargo ship had unloaded five containers of Valencia oranges, which had arrived Sunday and were being taken by truck to local distribution centers.
About 15 percent to 20 percent of all cargoes arriving at ports and terminals on the Delaware River, in Philadelphia, South Jersey, and Wilmington, is fresh fruit - bananas, grapes, kiwis, apples, pears, and citrus from Chile and other nations.
And now Uruguay.
"It's important because it's the first time that Uruguayan citrus has been permitted in the United States," said Robert Blackburn, the Philadelphia Port Authority's deputy executive director.
Uruguay exports other goods to the United States, including meat, leather, fish, and dairy products, said Ricardo Baluga, deputy chief of the Embassy of Uruguay to the United States.
"This first shipment of citrus marks nearly 19 years of hard work and negotiations between the United States and Uruguay," Baluga said. "We have reached new levels of safety and look forward to expanding our offerings."
The shipment that arrived Sunday was a trial run before the Uruguayan fruit season begins in May and continues through September.
Next summer, three varieties of Uruguayan mandarins, as well as oranges and some lemons, will come regularly into the Philadelphia port.
A protocol was recently finalized between Uruguayan agriculture officials and U.S. regulators that requires pest monitoring and control practices, grove sanitation, and packinghouse requirements to eliminate potential pests and bacteria and ensure safe importation.
"We are eager to expand this exciting new pipeline of goods into the U.S.," said Leo Holt, president of Holt Logistics Corp., whose family runs the terminal. "Our strategic location, with extensive transportation infrastructure and access to over 100 million people within a day's drive, makes our port ideal for any exporter looking to tap into the U.S. market."
Over the years, California citrus growers have been a strong lobby seeking to limit competition from foreign suppliers, particularly Argentina, which lost its right to bring citrus into United States 10 years ago.
Uruguay's citrus-producing season does not overlap with the U.S. season, said Bruce McEvoy of Seald Sweet International, fruit importers and exporters in Vero Beach, Fla. The Uruguayan exports are important to the small country, which "needs to diversify its agricultural base," McEvoy said.
Bruce Cahan, officer in charge of the Agriculture Department's Animal and Plant Health Inspection Service (APHIS) in Southeastern Pennsylvania, acknowledged the years of "hard work" to bring the citrus here. "Our goal was to facilitate trade and continue ensuring the health of U.S. agriculture. We are pleased to see the results."
McEvoy told the crowd: "It's been a very long journey. Lots of patience was needed along the way. Over the years, I can recall meeting with three of the former presidents of Uruguay, with four ministers of agriculture, and with ambassadors on both sides, U.S. and Uruguay."
Since 2000, imported citrus fruit has increased twentyfold, exceeding 200,000 metric tons this year, McEvoy said. "Summer citrus has emerged as a category, and the buyers have converted. Joining Australia now, we have Chile, Peru, South Africa, and today, the newest entry, Uruguay."
---
Top Area Importers by Tonnage
Products arriving at Philadelphia Regional Port Authority in 2011.
Company                            Place of origin                Product                  Tonnage
Ikea                                 Sweden                         foods, furniture         249,500
Turbana                               Columbia, Costa Rica          bananas                     243,562
M-Real                               Finland                         paper                     194,528
Hyundai, Kia                         South Korea                   autos                     174,978
Stora Enso North America             Sweden, Finland                paper                       142,452
Norske SKOG                         Scandinavia                   paper                     93,309
In Care of Corus Steel USA          Japan                           steel                         45,618
Myllykoski North America             Scandinavia                     paper                       40,000
Shinsho America                      Japan                         steel                        30,287
Jac Vandenberg                      Chile                            fruit                        28,664
SOURCE: Philadelphia Regional Port Authority
---
Read more at http://www.philly.com/philly/business/20131119_Officials_mark_arrival_of_Uruguayan_citrus_in_U_S_.html#a6abIDsgAXhOXBoU.99